TWO CHAPTERS HAVE BEEN ADDED TO THE BOOK BY J POSADAS: THE TASKS FOR THE LEFT IN THE LABOUR PARTY. Look on links below for the electronic book. A small search will lead you to a short biography of J Posadas who died in 1981.
The two chapters are:
THE SIGNIFICANCE OF THE ELECTORAL VICTORY OF THE LABOUR PARTY –

by J POSADAS

– 13.10.1974
And:
THE REFERENDUM ON THE EUROPEAN COMMON MARKET (EEC), THE ABSTENTIONS AND THE SOCIALIST SOLUTION TO THE CRISIS OF CAPITALISM IN BRITAIN –

by J POSADAS

– 8.6.1975
Editorial Note to the Reader: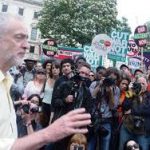 Although these two texts bear the dates of 1974 and 1975, the Editors of the Scientific, Cultural and Political Editions re-publish them (this time as part of a book by J Posadas) because of the example J Posadas provides in the use of the scientific Marxist thought-method; and because the programmatic conclusions he offers are still valid today. Indeed they are valid for the historic period ahead of us, up to the Revolutionary State in Britain and  the Socialist Federation of Workers States in Europe.
There were two general elections in Britain in 1974. The first took place on 28 February. The result was a 'hug parliament'. The Conservative Party of Ted Heath having won less seats (although more votes) than Labour, a minority Labour government was declared with Harold Wilson[1] as Prime Minister. Due to the instability, Wilson called new elections on 10 October 1974 (3 days before this text was elaborated). This time, the Labour Party won a majority, although by only 3 seats. Wilson continued as Prime Minister but resigned on 16 March 1976. As James Callaghan[2] won the Labour leadership contest that followed, he took over from Wilson as Prime Minister to finish the Labour term in 1979. In the opposition, meanwhile, Margaret Thatcher[3] had become leader of the Conservative Party in Feb 1975. The Editors, 25.5.2017.
""The fundamental aspect about the October 1974 elections is that they have more to do with the crisis of the capitalist system than with the crisis of the Labour Party. Compared with the February elections, Labour lost 200,000 votes but it increased decisively its share of the vote cast, making the losses for the Conservative Party considerably greater. ""

 J Posadas.
Read more:
http://quatrieme-internationale-posadiste.org/EN/livre-32-the-tasks-for-the-left-in-the-labour-party.php
http://quatrieme-internationale-posadiste.org/EN/index.php
Look on these links for the electronic book: The Tasks for the Left in the Labour Party, by the author J Posadas. A small search will lead you to a short biography of the author who died in 1981.
Here are some of the main sub-titles in these 2 added texts:
In Britain, 'Republic' means Revolution
Ireland is a crisis that capitalism cannot resolve
Nationalisations must serve overall economic planning
Capitalism reorganises its military power
Capitalism wants a final reckoning with the Workers States
It is for war that capitalist Europe 'unites'
The 'no' of the Labour left forms part of a maturing process
Tony Benn said 'no' to the EEC but not to the market economy
The 'yes' to stay in the EEC does not indicate strength
Everything cries out for social change and human dignity
Imperialism goes from defeat to defeat
A Government of the Left is needed in Britain, with a European anti-capitalist programme
The Labour left and the Trade Unions need to link up organically
For a Government of the Left and a Socialist Republic in Britain