"IT IS NECESSARY TO THINK IN TERMS OF FEDERATIONS, OF INTEGRATIONS AND CONFEDERATIONS THAT RESPECT ALL THE PEOPLES' ROOTS AND LANGUAGES" – J POSADAS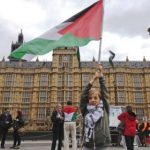 The document entitled "The formation of a Palestinian State and the World Revolutionary Process" by J Posadas, dated 19.2.1978, has just been updated and republished. You will find it on the site of the Posadist IV International accessible from the home-page of this blog.
Please find below a brief outline, for your interest.
THE FORMATION OF A PALESTINIAN STATE AND THE WORLD REVOLUTIONARY PROCESS
J POSADAS
19 February 1978
In this text dated 1978, the Assad of Syria is the father of the present one in 2016 (Bashar). Begin was governing in Israel, and Sadat in Egypt.
Arafat was then one of the main Palestinian leaders wishing to set up a Palestinian State. The author poses that the construction of such a new State can only be envisaged as part of the unification of the Jewish and Arab masses, of the Middle East and beyond.
This revolutionary outlook, the only one capable of injecting life into a Palestinian State, presents the Palestinian movements with the need to overcome their patriotic concepts and adopt the perspective of the Socialist Federation of the Middle East.
In short, a Palestinian State must emerge as a revolutionary entity, or be nipped in the bud by world capitalist competition.
The Posadists today, June 2016